Cultural mecca and home to a diverse community of urban beauty, art and history, Oakland, California is the epicenter of afrocentrism. Located just minutes from San Francisco, separated by a small body of water and the Bay Bridge, Oakland has its own distinct history, sounds, tastes, and social movements known around the world. Affectionately known as "The Town", this city has always been a resource for those seeking natural and holistic approaches to their everyday lives. Notorious for its appreciation of black culture and traditions, it's no wonder there has been an explosion of black entrepreneurs from tech, fashion and beauty taking advantage of the feel-good nature this city has to offer.
---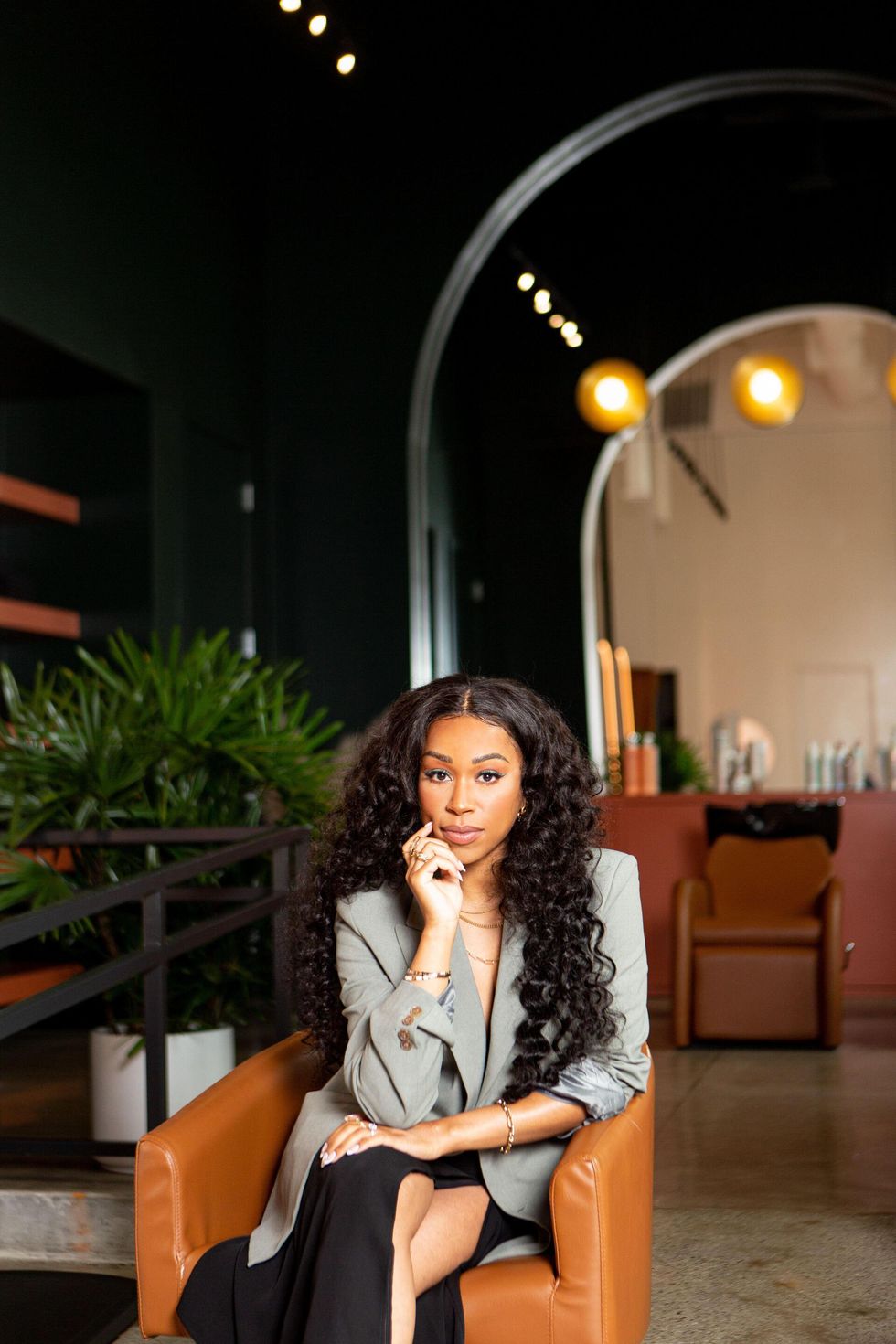 GoodBody founder Brittany Barns
Courtesy of GoodBody
Black woman-owned and operated, GoodBody, is Oakland's newest beauty destination. Opening in October 2020 amidst a global pandemic, this one of a kind beauty bar celebrates diversity by providing an oasis for women with afro-textured hair. A trendy yet modern experience offering a range of services including wash and go's, crochet twists and blowouts to beauty treatments such as facial threading and waxing, GoodBody is not your typical black hair salon.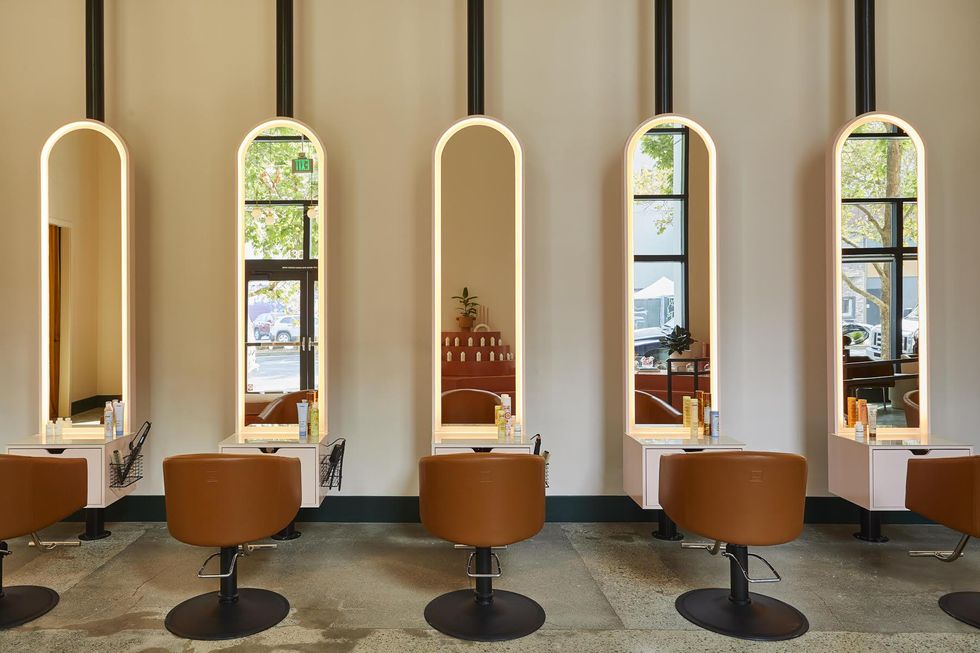 Courtesy of GoodBody
"Every black woman understands how difficult it can be to find efficient and professional haircare, which should be the standard," says founder Brittany Barns. "You go somewhere to get your hair done and you expect to be in and out in a decent amount of time and expect the service to be professional. Even if that's walking in and being greeted, something that simple."
Taking the pain out of the ordinary salon visit, GoodBody is setting the tone by elevating black haircare not only with excellent service but understanding the importance of a luxury experience. Brittany states, "From the time you walk in, before we get to your hair, we understand that you've chosen to spend your money here and that is something that should not be taken for granted."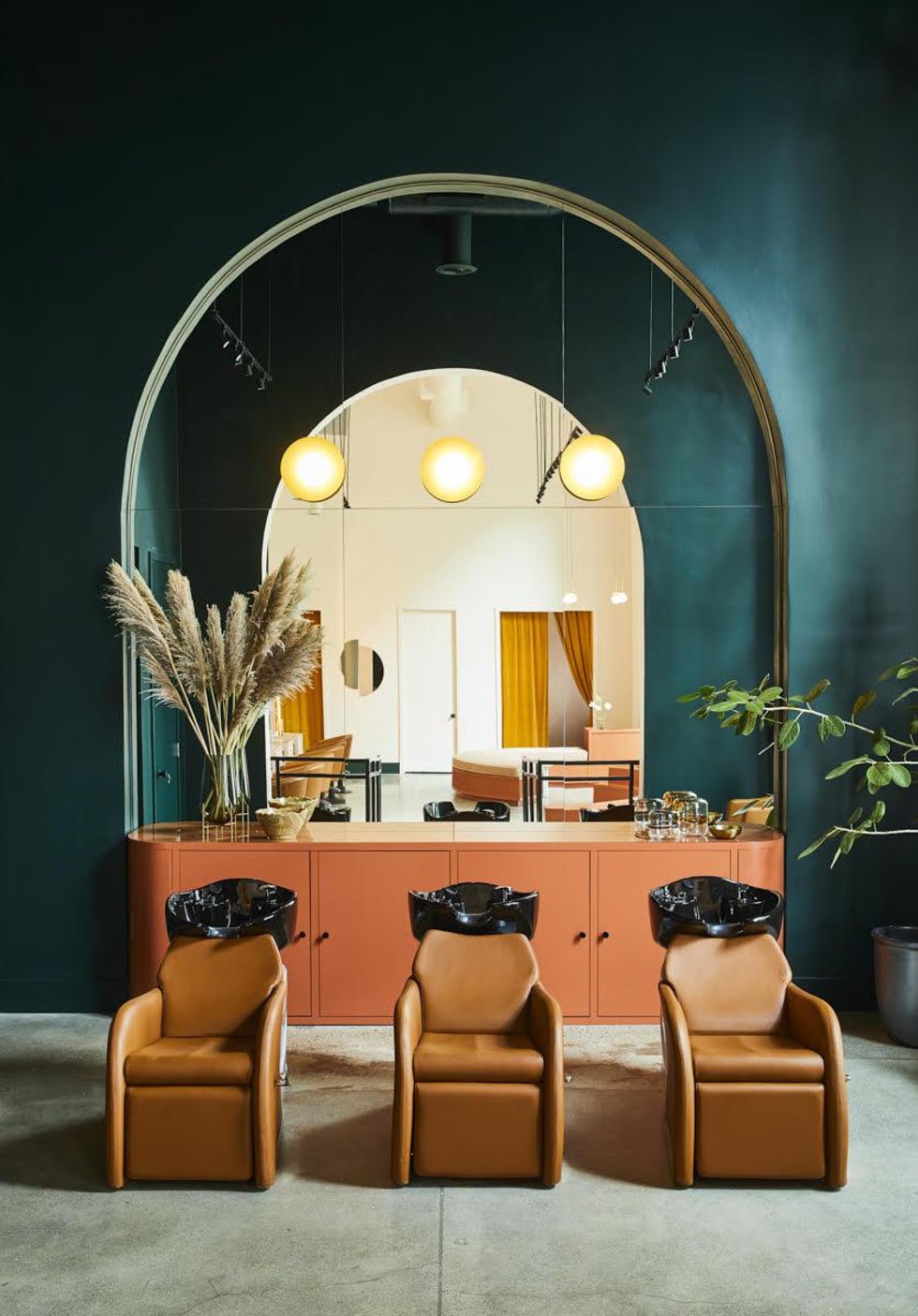 Courtesy of GoodBody
Not only is GoodBody salon dedicated to an amazing customer experience, walking through its doors felt as though I teleported to an oasis of my dreams. With a sleek modern design complete with high arches and a complimentary color palette, creating a welcoming environment through interior design was a top priority. "The thing that a lot of people don't think about for black women is that we actually enjoy being in beautiful spaces. There are very few created for us."
Getting frustrated with salon experiences, Brittany realized what was missing in our world for haircare.
"I began to question what type of space I would envision wanting to spend 8-10 hours. I wanted to create a place for haircare that met a standard that black women deserve."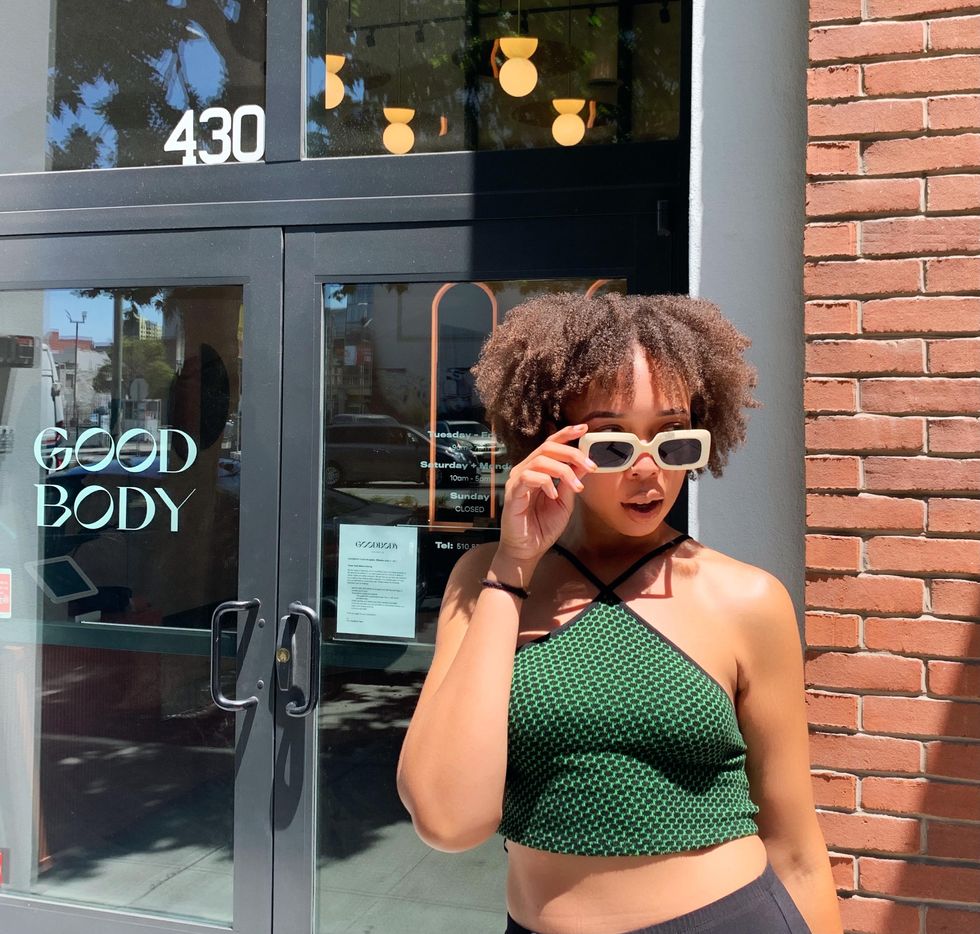 Writer Shahirah Ahmed
Courtesy of Shahirah Ahmed
Having the opportunity to visit this one of a kind beauty experience for the "Unwind and Define" service, consisting of a wash, define and go, I was impressed not only by the enchanting decor but the attention to individual haircare. With a mini consultation consisting of a short survey of questions to understand personal needs, the GoodBody team's dedication of specializing in health and wellness begins as soon as you sit in the styling chair.
"Most of the time it's assumed you're not going to be wearing your natural hair when you go to a black salon, you must want to get it pressed, weave or a wig and trust me, I wear all those things but whatever you decide to do, there has to be some type of consultation. If you're experiencing dryness or breakage, how can we help you with that?"
Brittany continues, "A consultation is more than the service being performed today, it's letting the stylist know what you're loving about your hair, getting to know what a client doesn't love, product recommendations, a detailed regimen on how to get your hair where you want it to be. That's extremely important to our business plan."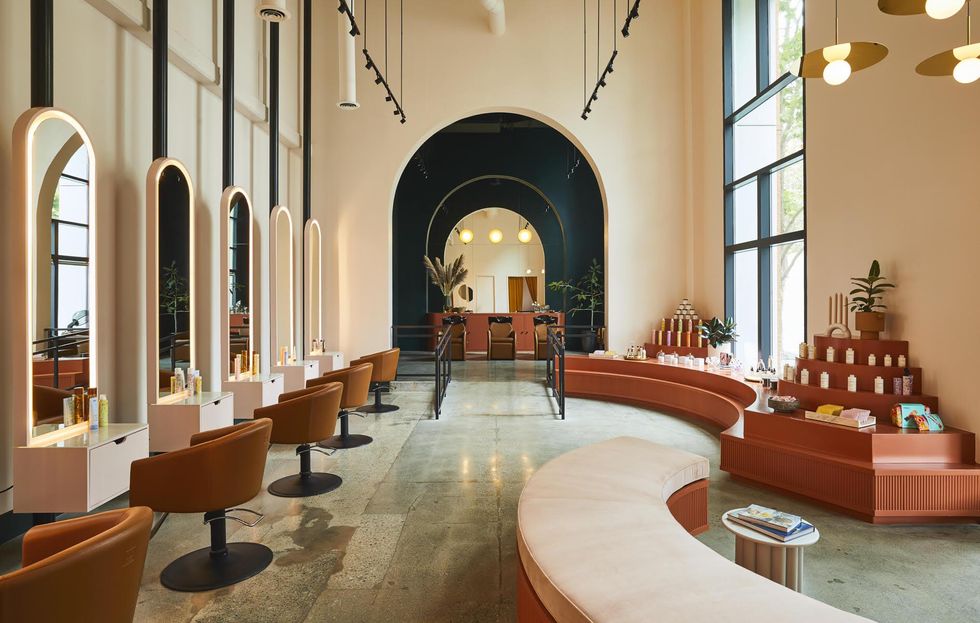 Courtesy of GoodBody
The essence of GoodBody is more than a name, it's a lifestyle. "I have hopes and dreams of what GoodBody can be and really expanding the self-care space for black women. I wanted a name that had a lot of room for growth."
"It's not just about hair, the goal is to focus on self-care and creating beautiful spaces of wellness for black women. We're known for voluptuous high volume hair with a lot of body and we are embracing that luminous and voluminous full look."
Redefining "good hair" is this contemporary salon's main focus is a holistic approach to every aspect of our lives, for a good body of overall health from head to toe creating an experience unlike any other.
GOODBODY BEAUTY SALON
430 W. GRAND AVE
OAKLAND, CA
Featured image courtesy of GoodBody
window.REBELMOUSE_LOWEST_TASKS_QUEUE.push(function(){
window.REBELMOUSE_STDLIB.loadExternalScript("https://ads.blogherads.com/static/blogherads.js", function() {
});
});
window.REBELMOUSE_LOWEST_TASKS_QUEUE.push(function(){
window.REBELMOUSE_STDLIB.loadExternalScript("https://ads.blogherads.com/sk/12/122/1225952/26164/header.js", function() {
});
});
window.REBELMOUSE_LOWEST_TASKS_QUEUE.push(function(){
window.REBELMOUSE_STDLIB.loadExternalScript("https://cdn.jwplayer.com/libraries/oYemHb8o.js", function() {
var video_count=0; function upDateJwplayerIframe(){ document.querySelectorAll(".widget__video:not(.jwplayer-proc)").forEach(function(video){ video.classList.add('jwplayer-proc'); if(video.querySelector("iframe[data-runner-src*='content.jwplatform.com']") || video.querySelector("iframe[src*='content.jwplatform.com']")){ let str = video.querySelector("iframe[data-runner-src*='content.jwplatform.com']")? video.querySelector("iframe[data-runner-src*='content.jwplatform.com']").getAttribute("data-runner-src"):video.querySelector("iframe[src*='content.jwplatform.com']").getAttribute("src"); console.log(str);
const regex = /players%2F.{8}/g; str = regex.exec(str); if (str !== null) { let videoID = str[0].replace(/players%2F/g, ''); video.innerHTML = ""; video.style.backgroundImage = "url(https://cdn.jwplayer.com/v2/media/" + videoID + "/poster.jpg)"; video.parentNode.classList.add('video_media_' + videoID); var playerDiv = document.createElement('div') playerDiv.id = 'jwPlayer_' + videoID +"_"+ (video_count++) + '_loaded'; video.innerHTML = ""; video.appendChild(playerDiv); var playerInstance = jwplayer(playerDiv.id); console.log("https://cdn.jwplayer.com/v2/media/" + videoID); playerInstance.setup({ //file: "//content.jwplatform.com/videos/"+videoID+"zpCh6x0y.mp4", //mediaid: videoID, playlist: "https://cdn.jwplayer.com/v2/media/" + videoID, autostart: "viewable", autoPause: {viewability: true, pauseAds: true}, image: 'https://cdn.jwplayer.com/v2/media/' + videoID + '/poster.jpg' }); blogherads.adq.push(function() { blogherads.monetizeJWPlayer(jwplayer(playerDiv.id)); });
} } })
}
function upDateJwplayerInBody(){ document.querySelectorAll(".body div[id^='botr_']").forEach(function(video){
if(video.parentElement.getAttribute('data-media_id')){ let str = video.parentElement.getAttribute('data-media_id')
if (str !== null) { let videoID = str; video.innerHTML = ""; video.style.backgroundImage = "url(https://cdn.jwplayer.com/v2/media/" + videoID + "/poster.jpg)"; video.parentNode.classList.add('video_media_' + videoID); var playerDiv = document.createElement('div'); playerDiv.id = 'jwPlayer_' + videoID +"_"+ (video_count++) + '_loaded';
video.insertAdjacentElement("beforebegin",playerDiv); video.parentNode.removeChild(video) var playerInstance = jwplayer(playerDiv.id); console.log("https://cdn.jwplayer.com/v2/media/" + videoID); playerInstance.setup({ //file: videoUrl, //mediaid: videoID, playlist: "https://cdn.jwplayer.com/v2/media/" + videoID, autostart: "viewable", autoPause: {viewability: true, pauseAds: true}, image: 'https://cdn.jwplayer.com/v2/media/' + videoID + '/poster.jpg' }); blogherads.adq.push(function() { blogherads.monetizeJWPlayer(jwplayer(playerDiv.id)); });
} } })
}
REBELMOUSE_STDLIB.createElementChangeListener(".mb-2", (el) => { upDateJwplayerIframe(); upDateJwplayerInBody();
console.log('run upDateJwplayerIframe & upDateJwplayerInBody'); });
});
});
window.REBELMOUSE_LOWEST_TASKS_QUEUE.push(function(){
function loadScript(src, callback) { let script = document.createElement('script'); script.src = src; script.setAttribute('data-dojo-config', 'usePlainJson: true, isDebug: false'); script.onload = () => callback(script); document.head.append(script); }
loadScript('https://downloads.mailchimp.com/js/signup-forms/popup/unique-methods/embed.js', script => { console.log('MailChimp Script Loaded'); window.dojoRequire(["mojo/signup-forms/Loader"], function(L) { L.start({ "baseUrl":"mc.us7.list-manage.com", "uuid":"178da277e40242a3477742b0c", "lid":"99906f1a3f","uniqueMethods":true }) }) });
});
window.REBELMOUSE_LOWEST_TASKS_QUEUE.push(function(){
// Quantcast Tag function loadScript(callback) { var _qevents = _qevents || [];
let script = document.createElement('script'); script.src = (document.location.protocol == "https:" ? "https://secure" : "http://edge") + ".quantserve.com/quant.js"; script.async = true; script.type = "text/javascript"; var scpt = document.getElementsByTagName('script')[0];
script.onload = () => callback(script);
scpt.parentNode.insertBefore(script, scpt); }
loadScript( script => { console.log('Quantcast Tag Loaded'); _qevents.push({ qacct:"p-GS-HF4BKvzCmv" }); });
});
window.REBELMOUSE_LOWEST_TASKS_QUEUE.push(function(){
var vglnk = {key: '135662ea7d51e79c1eb95280aac20b8b'}; (function(d, t) { var s = d.createElement(t); s.type="text/javascript"; s.async = true; s.src="https://cdn.viglink.com/api/vglnk.js"; var r = d.getElementsByTagName(t)[0]; r.parentNode.insertBefore(s, r); }(document, 'script'));
});
window.REBELMOUSE_LOWEST_TASKS_QUEUE.push(function(){
!function(f,b,e,v,n,t,s) {if(f.fbq)return;n=f.fbq=function(){n.callMethod? n.callMethod.apply(n,arguments):n.queue.push(arguments)}; if(!f._fbq)f._fbq=n;n.push=n;n.loaded=!0;n.version='2.0'; n.queue=[];t=b.createElement(e);t.async=!0; t.src=v;s=b.getElementsByTagName(e)[0]; s.parentNode.insertBefore(t,s)}(window, document,'script', 'https://connect.facebook.net/en_US/fbevents.js'); fbq('init', '318477121963716');
});
window.REBELMOUSE_LOWEST_TASKS_QUEUE.push(function(){
window.REBELMOUSE_STDLIB.loadExternalScript("https://xonecole-2.disqus.com/embed.js", function() {
(function() { var d = document, s = d.createElement('script'); s.src="https://xonecole-2.disqus.com/embed.js"; s.setAttribute('data-timestamp', +new Date()); (d.head || d.body).appendChild(s); })();
});
});
window.REBELMOUSE_LOWEST_TASKS_QUEUE.push(function(){
REBELMOUSE_STDLIB.createElementChangeListener(".widget__show-more",function(item){ REBELMOUSE_STDLIB.initClickHandler(item,function(event){ setTimeout(function(){ // your code here for xonecole following code blogherads.adq.push(function() { blogherads.reloadAds(); }); },300)
}) })
});
window.REBELMOUSE_LOWEST_TASKS_QUEUE.push(function(){
var ad__count=1; function reInitAds(){
document.querySelectorAll(".ad-tag__inner:not(.ad-proc)").forEach(function(item){
if(isElementInViewport(item,600)){ // console.log("trying to process ad: "+ad__count) console.log("adding ad codes") item.classList.add('ad-proc'); var ad_div=document.createElement("div"); ad_div.id="secondary_resoponsive_ad--"+ad__count++; item.appendChild(ad_div); if(item.getAttribute('data-pos')=="in_content"){ blogherads.adq.push(function() { blogherads.defineResponsiveSlot([ [[1050, 0], 'banner'], [[800, 0], 'banner'], [[320, 0], 'medrec'], [[0, 0], 'none'] ], ad_div.id).display(); }); } else{ blogherads.adq.push(function() { blogherads.defineResponsiveSlot([ [[1050, 0], 'banner'], [[800, 0], 'banner'], [[320, 0], 'tinybanner'], [[0, 0], 'none'] ], ad_div.id).display(); }); } } }) }
function Ithrottle (callback, limit) { var wait = false; return function () { if (!wait) { callback.apply(null, arguments); wait = true; setTimeout(function () { wait = false; }, limit); } } } window.addEventListener("scroll", Ithrottle(function(){ reInitAds() },200));
});
window.REBELMOUSE_LOWEST_TASKS_QUEUE.push(function(){
window.REBELMOUSE_STDLIB.loadExternalScript("https://cdn.whizzco.com/scripts/widget/widget_v3.js", function() {
});
});