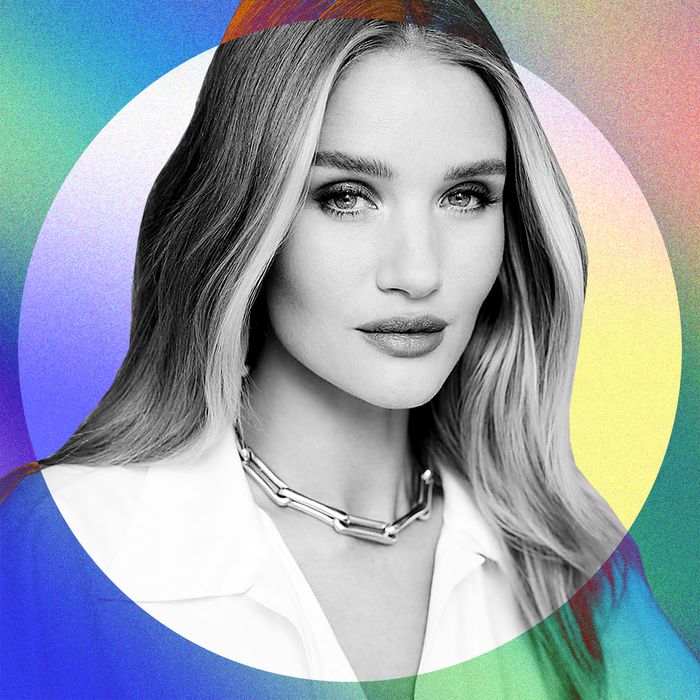 Photo-Illustration: The Cut; Photo: Courtesy of Rose Inc.
As a model, Rosie Huntington-Whiteley certainly understands beauty —entering the industry when she was just 15, she became a prominent face in the fashion industry. Then, in 2018, she launched her website Rose Inc., with the goal of creating a community to share information about beauty. It became a place to talk about everything she learned from her years in the makeup chair and to the voices of artists.
Three years later, she is using Rose Inc. to also launch her own line of beauty products. "I didn't want to launch a celebrity brand. I didn't want to just slap my name on a random product," Huntington-Whiteley says. "I wanted to create products that had real innovation and amazing formulations. A line that could stand on its two legs with or without me."
Huntington-Whiteley began working on the line's products with Rose Inc.'s CEO, Caroline Hadfield, whom she met while working with the brand Pipette, in 2019. Considering herself a perfectionist and a harsh critic of beauty products, Huntington-Whiteley has created a line that lives up to her own standards, including items like the Softlight Luminous Hydrating Concealer, Lip Sculpt Amplifying Lip Color, Brow Renew Enriched Eyebrow Shaping Gel, Blush Divine Radiant Lip and Cheek Color, Radiant Brightening Serum, and Skin Resolution Clarifying Toner. The Cut talked to Huntington-Whiteley about her passion for beauty, what being a model was really like, and ice baths.
Do you see beauty as self-care?
I absolutely do. One hundred percent. It's so interlinked in many ways. From a massage to a great red lipstick, to getting your hair cut or blown out at the salon to having a facial — I see all of those things as self-care. This is something I'm really passionate about. It's all about self-preservation, all those things are like putting yourself back together. Beauty is how you present yourself to the world, and it's also taking care of yourself in whatever way you feel that is.
Beauty is unique to everybody. For some people, it's not about wearing beauty products, it could be about their mental health or something else. I think of it almost as an analogy of putting your oxygen mask on first on a plane — seeing beauty as my own self-care allows me to do well. It's like a domino effect for everything else in my life.
What are the biggest misconceptions about being a model?
Oh, there's a lot. Most importantly, the one that we don't get along. The girls all get along really well. They take care of each other. Models are usually plucked from obscurity at 14, 15, 16, and then you're on the road together. There was sort of a team-like feel between the models, and some really great friendships that I've had over the years.
The second misconception is that models are not very bright. Over the years, I've met some really bright women — women who are modeling but they want to be a doctor or a lawyer and are trying to make money on the side modeling. Or, they're a model but their real passion is writing or painting. There are some really cultured individuals in modeling. There's also women who are building out phenomenal businesses for themselves and have a real entrepreneurial flair and use modeling as a stepping stone for that.
Another misconception is the idea that we don't work hard to get to where we are. I understand the rewards I've had and opportunities I've had are very privileged, let's face it. But over the years there has also been a lot of diligence, sacrifice, time, and effort. The workload can get really intense and physically demanding, traveling around the world in different time zones, and it can be a lonely job. I'm careful to say that, because I know I'm not a nurse or fighting for climate change or anything that's fundamentally important in life, but there's definitely a component of being very, very focused in order to be successful as a model.
Do you think that beauty has changed as a result of the pandemic?
Over the last year, people had to take their beauty routines home and into their own hands. Believe me, I had to do that. As somebody who loves getting a facial twice a month, to have not had a facial for almost a year when we were in lockdown period was absolutely horrifying for me. There were lots of FaceTiming and Zoom calls with my aestheticians and facialists, having them walk me through DIY facial routines.
We also saw a less-is-more approach. Without going out, the pressures to wear makeup shifted into self-care and skin care. But, I think there will be a great return to beauty and fashion. I think that people are really going to enjoy being back out and shopping and enjoying the indulgence of purchasing a new beauty product and wearing it out to meet their friends that they probably haven't seen for a very long time. I 100 percent went back to getting facials as soon as I could. You can't substitute an at-home facial for seeing the experts! My appointment was booked well in advance, after lockdown.
What is the best affordable beauty product?
Having worked closely with Pipette, I really love their mineral SPF. It works beautifully under makeup, but I can also slap it all over my son, and I really love that it's a do-it-all family product. I also use the Mario Badescu drying lotion — there's not a night I don't go to sleep without a pink dot on my face somewhere. I hope people find Rose Inc. products affordable. Our Lip Sculpt is a great affordable lip product, as is our Luminous Hydrating Concealer.
What do you wish more people understood about what you do? 
I was talking to someone about this the other day, and they asked if I thought people thought what I did was really superficial. I don't really think too much about what other people think in that way. I'm not too concerned because I know what I do, and I know the people I love the most know. I suppose what I have learned in the last couple of years as a brand founder is how much love and detail and passion goes into making products. I wish people would understand the sacrifice you make of your life and your time, and the commitment that goes into creating something is a true reflection of who you are.
What's the biggest "no" you've received in your career, and why does it stick out to you?
For a long time, I felt badly represented by my agents, and they didn't really understand what I wanted to create. I was often told "no." That I wasn't going to be able to do something, or I didn't fit into the part of the industry that I wanted to be a part of. For years, I was a catalogue model. I did hundreds of them. That was great, it paid the bills and I got to travel and meet a lot of people, but I wanted a bit more. I wanted creativity. I was just pigeonholed by agents who didn't have the vision that I had for myself. I was lucky enough to find an agent and build a team around me that shared my vision. I love the saying by Kris Jenner: "If someone says no, you're talking to the wrong person."
What's the wildest luxury beauty experience you've ever had?
I'm pretty simple. I like a deep-tissue massage, aromatherapy oils, and facials. My husband Jason [Statham] did get me an ice bath a few months ago while we were staying at the Amangiri in Utah, and I called him every name under the sun, but it was actually amazing. I'm building a house and now an aspect of what I want in the garden is an ice bath and a sauna. It's so beneficial and good. Wim Hof is a legend!
Do you think eye cream is "worth it"?
I actually do. I did not think it was worth it in my 20s. I thought it was absolutely stupid — why would I put on eye cream when I have moisturizer? Then you get into your 30s and you have a kid, and you start to see those fine lines coming. So now I do a really rich eye cream. The moisturizer I use on the rest of my face is very gel-based, but I like using a heavy cream around my eyes.
Where do you want to see the beauty industry go from here?  
I want to see more innovation when it comes to sustainability practices and solutions. I think we're going to see a lot of brands leaning into inclusivity in all its forms, I think we'll see a lot more customizable products. The beauty industry is super fast-paced and innovative. There's a lot of people, my team included, working really hard to push innovation for customers.
Fill in the blank: Unfortunately ______ is worth it. 
I don't know, because I think if it's worth it, why is it unfortunate? I guess I'll give the classic model answer. Unfortunately, drinking lots of water is worth it.