For Chapman University postdoctoral research associate and plant ecologist Andrew Felton, it's all about timing.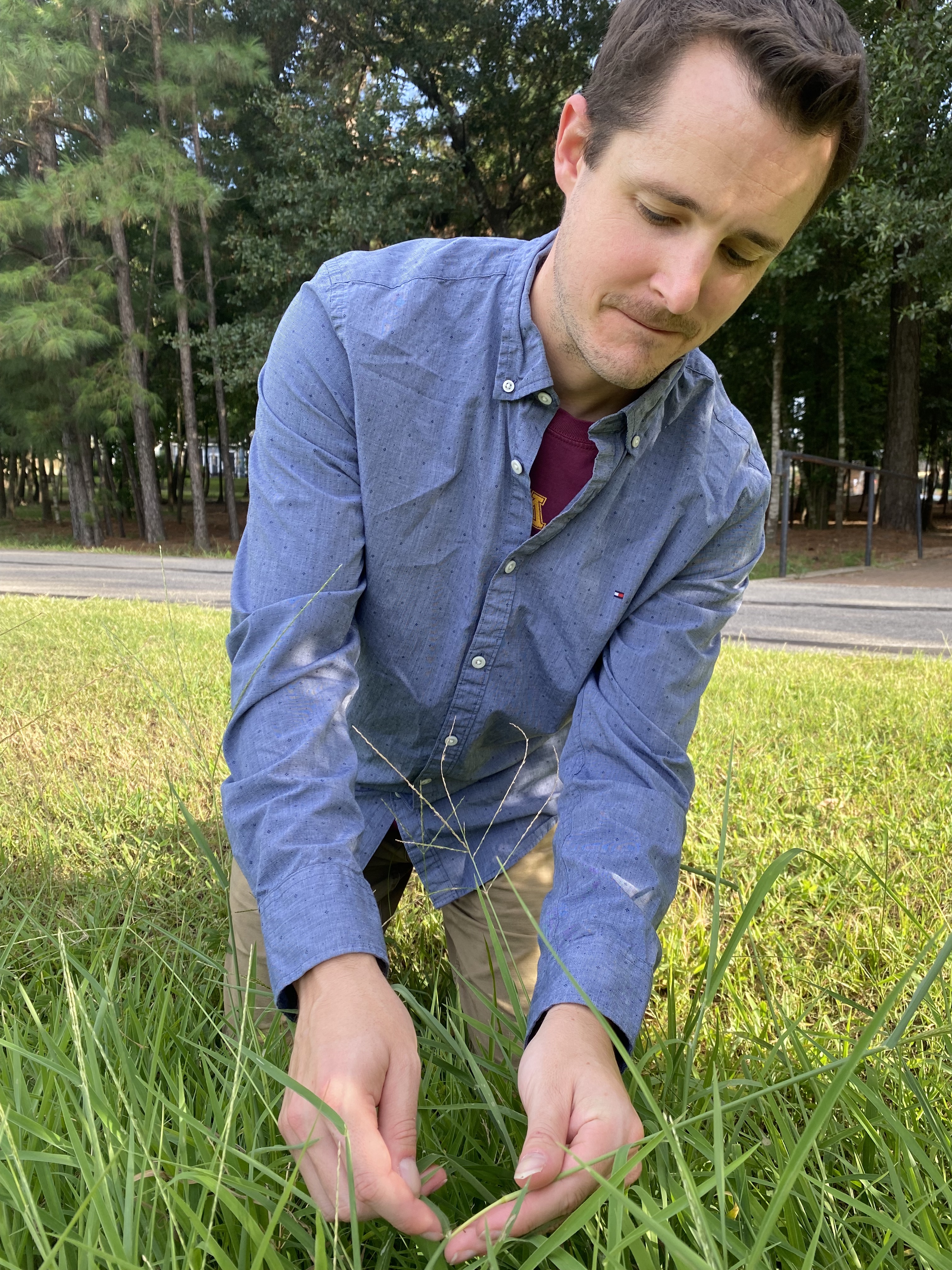 Felton, Ph.D., just received a two-year fellowship from the U.S. Department of Agriculture's National Institute of Food and Agriculture (USDA-NIFA) for a project that aims to find out exactly how — and when — Western U.S. rangeland systems respond to variations in weather such as rainfall. Most research to date on rangeland systems has centered on how much grasses grow given annual amounts of rainfall. But annual time scales may not be detailed enough for ranchers who use those grasses as forage to feed their animals. What happens after a particularly dry June or an unusually wet August?
Felton's research is set to answer such questions so that ranchers can make informed decisions amidst a changing climate. For example, irrigation must happen by a certain date to most effectively grow forage before the end of a season, so knowing which day they need to decide whether or not to irrigate by could immensely help ranchers, especially in a drought.
"It's really trying to move the field a little bit further beyond just annual rainfall or annual forage production. We want to know when forage is most sensitive to weather during the growing season. When does it cease to be sensitive?" Felton said. "To be very cliche, timing is everything."
Felton attributes a lot in life to good timing — including this fellowship and his academic career.
He was initially interested in evolutionary biology, which led him to ecology.
"Along the way, you take some courses, and you find out that wild plants are really cool," Felton says. "But they're also really important, right? They feed us and they regulate the climate. They're the reason why a lot of life has evolved. Then you learn more and become more engaged. Before you know it, you have a Ph.D. in plant ecology."
Postdoctoral Fellows Strengthen Collaborative Projects
Felton's fellowship is a prestigious next step on the path to a faculty position. He joins a growing cohort of postdoctoral research associates at Chapman, including those who serve as teaching and research fellows in the Grand Challenges Initiative. 
Felton, who will work in the lab of Greg Goldsmith, Ph.D., in the Schmid College of Science and Technology for his fellowship, said that he is looking forward to collaborating with partners at the USDA, such as social scientists and ranchers, to conduct his research and turn it into valuable and effective recommendations.
While Felton's postdoctoral USDA-NIFA fellowship is the first in Chapman's history, it certainly isn't the university's only funding from the USDA.  Faculty at Chapman received nine USDA awards from 2005-2018; they received an additional nine awards in the last three years alone.
John Miklavcic, Ph.D., assistant professor of food science in the Schmid College of Science and Technology, also received a grant this year to support students from underrepresented backgrounds to pursue MS degrees in the fields of food science, human sciences and human nutrition. The project will help fund six outstanding students from identities historically underrepresented in the sciences to engage in multidisciplinary food science and human nutrition research.
Students Gain From Mentorship, Hands-On Learning
In particular, students will pursue both academic and hands-on internship experience, thus benefiting from the mentorship of industry professionals. Students will, in turn, mentor high school students from underrepresented backgrounds, a crucial push for equity, diversity and inclusion in food science.
Other recent awards include research on the adaptations of avocado trees to resist drought stress — a project led by professors Eleinis Ávila-Lovera, Ph.D., and Goldsmith — as well as  research focused on breeding more robust chia plants, led by Hagop Atamian, Ph.D., and research into the impact of processing on the cellular composition of cow milk and how humans digest it from Miklavic and Anuradha Prakash, Ph.D.
"Chapman University is emerging as an institution that can produce world-class science that can be of direct use to the community, particularly with respect to understanding the future of our food systems," notes Michael Ibba, Ph.D., dean of Schmid College.
As the population grows and climate change makes growing enough food increasingly difficult, it's crucial to have all hands on deck to make new scientific discoveries and figure out science-based strategies for responding, Ibba says.
For Felton, "climate change frames the whole context of the project," he says. In California and across the West, an ongoing megadrought threatens the state's natural resources, including water, healthy soils, clean air and biodiversity. Moreover, more than a third of the country's vegetables and two-thirds of the country's fruits and nuts are grown in California.
Western U.S. states can expect to see more droughts and wildfires going forward, Felton says.
"So we need information that can help people whose identities and livelihoods are threatened," he adds. "Our science can help mitigate the uncertainty that comes with such rapid change."