There's no better pastime than testing out the coolest new skincare/makeup/hair trends and snazzy innovations in beauty tech from the comfort of your own home. That said, there's nothing more frustrating than spending upwards of £100 on a new at-home facial system or snazzy pair of hair straighteners, only to find out they don't *actually* work.
Enter GLAMOUR Tries: the weekly Instagram series which sees GLAMOUR editors do all of the time-consuming (and expensive) work for you.
GLAMOUR TRIES: We recreated TikTok's favourite lip liner hack – using Pat McGrath Labs – to see if it really works
Yep, we've been busy trying out all of the wacky and wonderful beauty crazes to take the internet (read: TikTok) by storm – from BaByliss' Hydro Fusion Air Styler (the rotating hot air brush of dreams) to CurrentBody's Skin LED Precision and Fanola's No Yellow Foam Conditioner. These are the products every influencer/gen-Z beauty slueth/beauty editor is talking about on the internet – but that you want to be sure about before parting with your money.
Thanks to GLAMOUR Tries, you won't need to waste your hard-earned pennies on testing these innovations yourself. We're getting in their first, giving you the lowdown and making sure you invest in products that genuinely work. Like what you see? You can shop all of the products seen on GLAMOUR tries in previous weeks down below. Race ya?
The best neck creams for smooth, firm skin, because we so often neglect our décolletage when it comes to skincare
On GLAMOUR Tries this week, Social Media Director Chloe Laws tested out Dr. Jart+'s Cryo Rubber So Cool Duo face masks which claim to smooth, hydrate and lower the skin's temperature to increase blood flow for a better absorption of powerful active ingredients.
Crafted for dry and sensitive skin types, each mask features two steps (a serum and a rubber sheet) inspired by Cryo therapy. Alongside the powerful actives, such as hyaluronic acid and allantoin, the formulas are packed with a prebiotic complex which treats specific skin concerns while working to balance the microbiome. As a result, your skin should feel calmer, more supple and soothed.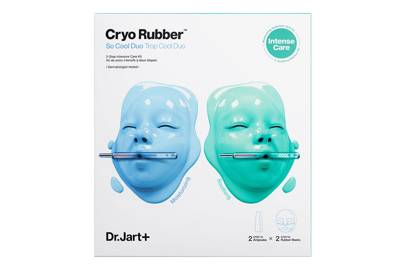 Chloe chooses the allantoin mask, which soothes and protects the skin against external irritants, and begins to apply it, ensuring the serum-like liquid is smoothed over her face before putting the rubbery sheet mask on top. "I'm going to leave this on for 30 to 40 minutes and hope the post man doesn't come and see me in it during that time!" She says.
After the time is up, Chloe gives her final thoughts. "I'm impressed! I think my skin is more hydrated and dewier – definitely plump and firmer – it's a little bit pink right now but I think that's probably the shock from the cold mask, and I'm sure that will go down. I really enjoyed this, it was super fun to put on, the half an hour flew by because I was just taking photos. I would definitely use it again, I think it's a little bit of a different take on your average mask and the rubber element I really enjoyed, so another thumbs up!"
Would you give Dr. Jart+'s Cryo Rubber So Cool Duo face masks a go? Have you already tried them? Let us know your thoughts over on Instagram @glamouruk.
For more from GLAMOUR UK's Associate Commerce Writer Georgia Trodd, follow her on Instagram @georgiatrodd.
All the skincare questions Gen-Z are asking, and the beauty brands they can't live without
In the meantime, here are all of the products you've seen on GLAMOUR Tries over the past few weeks. Happy shopping!